PARTS ONE THROUGH EIGHTEEN (2017)
Hover over the featured photo and click PLAY to browse episodes. Click the featured photo to peruse that episode below the header.

Opening Credits (1:22-2:42)

Back at Silver Mustang Casino, "Mr. Jackpot's" winning streak is up to 29 mega-jackpots and the gape-jawed, beleaguered casino staff is already well past sweating bullets when Cooper offers a second tip to the frazzled old woman that brings the tally to 30 mega-jackpots. As the chaos unfolds, Bill Shaker from Allied Chemicals recognizes a man he believes to be "Dougie Jones," only to be met with blank stares from a dazed and confused Cooper. Shaker downs a hotdog while his increasingly concerned date senses that something isn't quite right with poor Cooper. Sensing that the man he believes to be Dougie Jones could use a little rest, Shaker suggests that Cooper should take a brief cab ride home ("just 6-8 minutes from here") to the house "with the red door on Lancelot Court" ("the red door—that's how I always find it"). Cooper walks toward the cab stand, perhaps to catch a taxi to the house with the red door on Lancelot Court, but is intercepted by a pit boss who takes him into the casino manager's office. After several awkward attempts to woo Cooper into sticking around for what the manager clearly hopes and prays will be a reversal of fortune, he gets an address out of Cooper, orders him a limo, and sends him on his way with a huge bag of cash and a stern warning that any future exploits at the casino will be closely monitored. (2:43-10:35)

The limo driver is incredulous that the confused man under his charge doesn't seem to know his own address, but is kind and accommodating nonetheless. With only the red door clue to help them on their way, and despite multiple reminders from the limo driver that it is difficult to see colors in the dark, they finally find the house on Lancelot Court. As Cooper and the limo driver wait awkwardly by the car in front of Dougie's house, an owl flies overhead. "Damn…those things spook me," the limo driver confides in Cooper. After what seems like an interminable wait, Dougie's wife—unaware that what is left of her husband is now tucked safely into the pocket of a one-armed-man from another place—emerges from the house furious that Dougie has been gone for three days, and incensed that he has missed "Sunny Jim's" birthday—a boy one assumes must be Dougie's son. Initially confused and upset, Dougie's wife softens significantly upon realizing that the man she mistakenly believes to be her husband won the cash fair and square (with a little help from the Lodge, of course). With great relief, she observes that "it will be enough to pay them back" and that "this is the most wonderful, horrible day of my life." She scurries off to fix him a sandwich and a leftover piece of chocolate cake from Sunny Jim's birthday, expressing her relief and gladness that he is home. As she disappears into the kitchen, Cooper says, in his vacant way, "home." (10:36-16:38)



​FBI man "Bill" leads Gordon Cole into a lavish office that we soon learn belongs to Special Agent Denise Bryson. In the intervening 25 years, she has ascended to Chief of Staff of the entire FBI. In an awkward exchange, Cole asks Bill how "Martha" is doing and wonders if she ever fixed that thing with Paul, to which Bill replies that Paul is now at the North Pole, prompting an enthusiastic "Well, there you go!" from Cole. Cole sits down and waits for Bryson to emerge, noticing an elaborate bouquet of roses on the seat next to him. They discuss the Cooper affair and Bryson chides Cole for taking Agent Tamara Preston on the imminent trip to South Dakota, insinuating that Cole's interest in the young, beautiful Agent Preston is less than ideally professional. Cole replies stringently that he is "old school" in this regard. He reminds Bryson that—prior to her transition from Dennis to Denise—when she was a confused young agent sowing her oats, "I had enough dirt on you to fill the Grand Canyon and I never used a spoonful because you were and are a great agent. And when you became Denise," he continues, "I told all of your colleagues—those clown comics—to fix their hearts or die." Bryson acknowledges Cole's kindness and Agent Preston's talent and assures Cole that she's "speaking more as a woman now than as the chief of staff of the entire Federal Bureau of Investigation," breathlessly observing the thrill she gets from saying the unabbreviated name of the bureau out loud. "There's room for more than one beautiful woman in the Federal Bureau of Investigation," Cole assures her. After a mention of raging hormones that induces a wince from Cole, and an admission from Bryson that Cole is onto something big, the meeting ends and Bill shows Cole out while Bryson fans her face to dispel a hot-flash. (16:39-20:44)



Back at the Sheriff's station in Twin Peaks, Lucy is talking to Sheriff Truman on the telephone. She believes he is fishing somewhere far away. Unbeknownst to her, however, he is actually poised to walk into the station having just parked his truck and, as he is talking to Lucy, his mobile phone drops the connection. When he unexpectedly appears at Lucy's desk, she finds it so shocking that she faints and is knocked backward in her chair to the floor. Andy rushes to her aid, lamenting the advent of cellular technology, and the Sheriff heads back to dispatch for an update. He finds out, among other things, that Dennis Craig, a high school student, OD'd on drugs at his desk. Sheriff Truman heads back to the conference room for a meeting with Hawk and encounters Deputy Bobby Briggs on the way. He asks Bobby whether he has any information on Denny Craig's overdose, which he suspects is a "Chinese designer drug". Before hastily excusing himself to pee ("I have to go so bad my back teeth are floating!"), Bobby explains that his video-surveillance of the Washington/Canada border has been more successful at capturing footage of wildlife than any evidence of drug-running. (20:45-24:24)

As Andy explains how cell phones work to Lucy, who apparently can't get her mind around the concept after years of trying, Hawk and Sheriff Truman debrief on the Log Lady's prophecy that Hawk needs to find something missing. A lesser deputy called Chad, marked by an earlier throwaway conversation as an officious prick, mocks the Log Lady, Lucy and others, and is told to leave by Sheriff Truman. As he departs unrepentant ("I'm going to have a word with my pinecone!"), Bobby enters the conference room and sees the old Laura Palmer case files arrayed on the table. As Laura's Love Theme plays, Bobby melodramatically breaks down: "Brings back some memories." Sheriff Truman brings a teary-eyed Bobby into the loop on the Log Lady's prophecy regarding Cooper and Hawk, and Bobby adds that Cooper was the last person to see his father, Major Briggs, alive just days before his death in a fire. Another deputy enters, announcing the arrival out front of Wally Brando, erstwhile son of Andy and Lucy, who—having arrived unannounced—wants to pay his respects to Sheriff Truman." "Oh boy," sighs a put-upon Sheriff Truman, who exists the conference room to humor Wally. (24:25-29:50)


As his proud parents beam with a hand each of shoulder, Wally regales his audience

with a Brando-esque monologue that ranges from news of his adventures on the road to a resolute decision to allow his parents to do as they will with his childhood bedroom ("they've wanted to make it into a study"). Given his affectations and flamboyance, one can't help but wonder whether Dick Tremayne is his biological father, Andy's undying devotion notwithstanding. (29:51-34:30)

Returning to Lancelot Court outside Las Vegas, we see Cooper sitting in Dougie's bedroom.

As he inspects the furniture, visions of Mike (the one-armed man) appear, transforming the room into the Lodge. Mike informs Cooper that he was tricked and holds up the golden pearl that contains whatever's left of Dougie. "Now one of you must die," says Mike, presumably meaning that either Cooper or Mr. C. must cease to exist in real-space in order for the other to resume full sapience and agency. Mike disappears and Dougie's wife rushes in, realizing that the man she mistakenly believes to be her husband is in dire need of a tinkle break (not unlike Bobby, oddly, just a two scenes before). She leads him to the bathroom to relieve himself. Cooper looks into the mirror, leading his head into it and inspecting his reflection in a way that calls to mind the final episode of the first run. Dougie's wife helps him get dressed, but leaves him to do his own tie. Before he can tackle that challenge, Sunny Jim appears and gives him a bemused thumbs-up, which Cooper confusedly reciprocates. At breakfast, cooper shows up with his tie draped across the top of his head, much to Sunny Jim's amusement. Both Dougie's wife and son seem oddly happy to accommodate their befuddled would-be husband and father, who continually struggles to show even the vaguest ability to negotiate the usual banalities of breakfast time. From a cup that says "I am Dougie's coffee," Cooper take a large, presumably scalding swig of his favorite drink, violently spits it on the floor, smiles maniacally, and says something unintelligible (that might be "Hi" or "Hey" or "Hot" or all of the above), as an owl cookie jar peers out at us from behind his shoulder. (34:31-42:45)

At the Buckhorn Police Department, forensics expert Constance Talbot attempts to run "the prints taken off the male John Doe" and discovers that this information is restricted to those with military clearance. (42:46-43:10)

Elsewhere in South Dakota, Cole, Albert, and Preston arrive for their meeting with a man who is believed to be the long lost Special Agent Dale Cooper, but is actually Mr. C., his dark doppelganger. On the car ride to the meeting, Cole's hearing impediments result in backseat hilarity as Agent Preston rides in front to ward off carsickness. When they arrive at the prison, a detective explains that Mr. C. was found in a wrecked car having vomited an unidentified poison that sent a patrolman to the hospital. The confiscated contents of the car's trunk—a large parcel of cocaine, an assault rifle, and a severed dog leg—are arrayed on the table. Albert quips, "No cheese and crackers?", and Cole apologizes for his rudeness. Mr. C.'s harrowing, fully-mulleted mugshot appears on the screen, and the group hastens to the cell to talk with the prisoner. When the privacy curtain goes up and Cole and Mr. C. make eye contact, Mr. C. flashes a thumbs-up and Cole reciprocates the gesture.

​S

peaking like an automaton in a voice considerably lower than his usual register, ​Mr. C. seems to say to Cole "Yrev, very good to see you, old friend",

inviting speculation—apparently confirmed by Cole himself just minutes later—that Mr. C.'s reverse pronunciation of the first "very" has tipped Cole off that he is a doppelganger from another place. Mr. C. explains that he needs to be debriefed by Cole, as he has been working undercover with Philip Jeffries, and that he was on his way to fill Cole in on all the twists and turns of the case when his car accident happened. Seconds later, he repeats the same odd monologue verbatim, prompting expressions of horror-tinged bewilderment from Preston, Rosenfield, and Cole. He claims that he has left messages in order to assure that Jeffries knows it's safe and asks when Cole will get him out of prison. Cole explains that the police have cause to hold him for the time being, but that they will work on a plan to get him home for a debriefing in due time. Mr. C. chillingly replies in his robotic monotone, "I've never really left home, Gordon." They exchange thumbs-ups and Gordon lowers the curtain. (43:11-50:51)


Outside the interrogation room, the detectives explain that they can hold Mr. C. for two days, and Cole requests that they let Mr. C. have his "private" phone call and then inform Cole "all about it". Cole, Albert, and Preston debrief in the parking lot, but Preston is wearing a wire which prevents Cole from turning his hearing aids up loud enough for a discrete conversation. He asks her to wait in the restaurant. As she departs, Cole takes a leering glance at her backside that makes one wonder whether Denise Bryson wasn't on to something in questioning his motives for putting Preston on the case.

Once they are alone, Albert confesses to Cole that Philip Jeffries had requested information on the identity of "their man in Columbia"—information which Jeffries alleged that Cooper desperately needed—and Albert complied and gave Jeffries the information. A week later, their agent in Columbia was killed. Cole, in disbelief, looking deep into Albert's eyes and plaintively repeating his name, seems to come to a resolution: "This business that we witnessed today with Cooper—I don't like it; something is wrong. Could be the accident but I don't think so." Their conversation is interrupted by feedback as Albert's foot scrapes a pebble which causes Cole's hearing aids to go haywire, causing a sensation like "a knife in my brain." "I don't think he greeted me properly, if you take my meaning," Cole continues, "something is very wrong. Albert, I hate to admit this, but I don't understand this situation at all. Do you understand this situation, Albert?" "Blue Rose," Albert replies. "It doesn't get any bluer—Albert, before we do anything else, we need one certain person to take a look at Cooper—do you know where she lives?" Says Albert in reply, "I know where she drinks." (50:52-55:22)

Powered by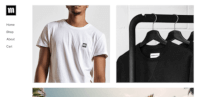 Create your own unique website with customizable templates.