THE GLASS BOX is an online collection of writings and photo essays devoted to philosophically-inflected exploration and illumination of Twin Peaks, Season 3.
THE GLASS BOX offers meticulous prose renderings of Parts 1-18 of Season 3 (EPISODES), philosophically-inflected critical and photo essays (NON-EXIST-ENT), a virtual jukebox of musical performances from the series (ROADHOUSE), and a curated selection of resources for further inquiry (BOOKHOUSE).
Powered by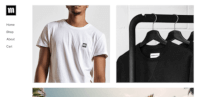 Create your own unique website with customizable templates.