Non-Exist-ENT
GLIMPSES OF THE MYSTERY
Hover over the featured photo and press PLAY to browse blogposts. Click the featured photo to read that post below the header.
Twin Peaks, Washington, USA

The establishment of a strong sense of place is one of the hallmarks of Lynch and Frost's storytelling in Twin Peaks. In the first two seasons, there was one primary theater of action--Twin Peaks, Washington--with characters occasionally crossing the border into Canada for various reasons, all of which emanated pretty straightforwardly from the main stage. But in the new episodes, Lynch and Frost tackle the much more daunting task of scripting the action across seven locations (so far!) that take us coast to coast in the good ol' US of A, deep into the Southern Hemisphere to another continent, and even beyond the stars to another world.

In this new set of stories within a story, we traverse a variety of odd boundaries. We move from fictional places situated in a fictionalized version of the actual world (like Twin Peaks and Buckhorn), to fictionalized versions of actual places in a fictionalized version of the actual world (like New York, Las Vegas, Philadelphia, and Buenos Aires), to surrealist visualizations of other worlds entirely--whether they are worlds outside, extended somewhere in or beyond spacetime, or merely worlds within the space of psychological projection.

In living through the first set of stories (many, many times!), I grew to love the iconic establishing shots of favorite familiar places: the mill, the sheriff's station, the Palmer residence, the R&R, One Eyed Jack's, and of course the Great Northern. As the world of Twin Peaks has now vastly expanded, there are many more places to explore. Here are seven of the most memorable establishing shots we've seen so far (through episode five).

New York, New York, USA

Buckhorn, South Dakota, USA

Las Vegas, Nevada, USA

Another Place

Philadelphia, Pennsylvania, USA

Buenos Aires, Argentina
Powered by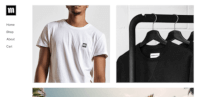 Create your own unique website with customizable templates.