PARTS ONE THROUGH EIGHTEEN (2017)
Hover over the featured photo and click PLAY to browse episodes. Click the featured photo to peruse that episode below the header.
Opening Credits (1:00-2:13)

Cooper is hurtling through space. Our vantage-point on his plummeting alternates back and forth from a top and bottom view, an effect which creates a circular motion, turning the points of light racing past him into eddies radiating into an ocean of blackness. We see a burst of what looks like dense purple smoke or perhaps liquid dye blooming into an aquatic solution and spreading into the water, and the resulting violet haze melds into Cooper's star fall. The haze materializes into a soot-covered brutalist building that might have been the former mayor's home in an abandoned South American capital city were it to have been built in our world. A large window is just visible on the left side of the structure behind a balcony onto which Cooper suddenly falls from out of a turgid, dark-violet sky. (2:14-3:05)

An endless sea agitated by wind shimmers beneath a black void suspended in heavy violet cloud cover. Cooper surveys the vast expanse of water from the balcony and a ribbon of beach is visible. He turns and opens the window and climbs through it. A woman in a red velvet dress with a disfigured visage (her eyes appear to have skin sutured over them) sits in a cavernous fire-lit room. She reaches out to Cooper and they hold hands. The firelight flickers, bathing them in red, but the field of vision flickers and skates too, as if some spatio-temporal disturbance is interrupting the experiential flow.

​With their hands joined, Cooper asks her "Where is this? Where are we?".

The woman's speech is inaudible or unintelligible or both. Loud, aggressive knocking perforates their interactions, which continue to flicker and skate like an old filmstrip. Cooper notices a large, ornate electrical socket labeled "15" and moves toward it. The woman implores him not to go near it and steps in front of him to prevent his approach. Her waving arms conjure noises like knives being sharpened or

heavy shears rending tissue

. As the knocking grows louder, she leads him across the room, out a door, and up a ladder onto a small rectangular structure suspended in deep space. On top of the structure sits a transformer that looks like a copper pot-still. As the knocking reaches a fever pitch, the woman throws a switch on the transformer which electrifies the room below, stopping the violent banging, but also electrocuting her and plunging her into deep space, presumably lost. Cooper surveys the space scape and sees a giant vision of the face of Major Briggs, who exclaims "Blue Rose" and drifts off. Cooper gazes out into the starry deep and then heads back down through the hatch. (3:06-13:06)


​When Cooper reenters the room below, he finds it changed

—activating the transformer seems to have moved him into a different location in spacetime. The ceiling is illuminated, there is a fire in the fireplace, and an "American Woman" resembling an aged Ronette Pulaski is sitting in a plush blue loveseat in front of the fire. A single blue rose sits in a vase on a black lacquered table. Across the room is another giant electrical outlet, this one bearing the number 3. She looks at him plaintively, then glances at her watch. As the watch strikes 2:53 pm, a light switches on next to the electrical outlet, which begins to emit a charge, crackling away across the room. (13:07-15:09)

(

NOTE:

Given that the first fifteen minutes of this episode is probably the most beautiful television ever made, you may wish to consult my photo essay

"Truth and Goodness Dwell in Beauty"

to get a richer sense of Cooper's epic journey.)

Mr. C. is driving the black Lincoln on a South Dakota highway.

The chintzy dashboard clock reads 2:53 pm. One hears an electrical hum and crackling coming from the cigarette lighter, which glows green. The lighter is suddenly huge and blurred in our field of vision. (15:10-15:37)

Cooper is inspecting the number 3 socket

, which emits a loud electrical hum and draws his head toward it. The woman by the fire jumps up and exclaims "When you get there you will already be there!" Cooper draws nearer to the socket and it begins to draw him in, his face twisted and flickering in white heat. (15:38-16:33)


​Mr. C. is driving increasingly recklessly, the Lincoln veering and swerving all over the road. An electrical hum and intermittent crackling announce that the cigarette lighter has become a portal to another place, threatening to draw him back into the Lodge. (16:34-16:49)

Cooper draws nearer to the number 3 socket. Loud, aggressive banging starts up again, inviting the inference that whatever horror was stalking Cooper back in the room with the 15 socket has managed to stay on his tail. The woman by the fire agitatedly admonishes Cooper to hurry. "My mother is coming," she warns. As the banging continues, Cooper is pulled through the socket like a log through a chipper. Only his shoes are left behind, falling empty to the floor as Cooper completely disappears into the outlet. (16:50-17:44)

Mr. C., now swerving ever more violently, loses control of the car and rolls it. As the clock strikes 2:53, he chokes back vomit and the Lodge curtains flicker into the desert-scape in front of him as the cigarette lighter socket crackles and hums. (17:45-19:36)


​A saccharine billboard announces that the suburban sub-divisional purgatory before us is the Rancho Rosa housing development near Los Vegas, Nevada. Yet another man who looks disturbingly like Special Agent Dale Cooper sits on a dingy bed entertaining a paid escort. He is dressed in frumpy, ill-fitting clothing, has a ludicrous wig, and is noticeably favoring a tingly, limp left arm. His escort calls him "Dougie" and asks what's wrong with his arm. She takes several hundred dollars from his flaccid left hand and announces that she is "going to get cleaned up." Looking confused and sluggish, Dougie attempts to stand up and his left arm falls slack, revealing the Owl Cave Ring on his finger. He struggles to put on a distastefully loud yellow sport-coat with one arm while fighting growing nausea and collapses from the exertion. (19:37-21:15)

Mr. C. writhes about in the wrecked Lincoln, holding back vomit as the Lodge encroaches on the South Dakota highway, red curtains dancing above the desert floor. (21:16-21:26)

Dougie struggles across the floor while his escort showers. After a few dry heaves, he gives up the garmonbozia, vomiting a mixture of creamed corn, bile, and blood onto the tawdry beige carpet as translucent Lodge curtains ripple in front of him. With a giant bang, he disappears behind the curtains, prompting alarm from his showering companion: "What was that? Dougie?". (21:27-22:27)

Struggling mightily against increasingly overpowering nausea, Mr. C. sees a vision of Dougie seated in a lounge chair behind the Lodge curtains. Unable to contain it any longer, Mr. C. violently vomits creamed corn, black bile, and blood in waves before passing out behind the wheel. (22:28-23:00)


​Dougie is in the Lodge with Mike, the one-armed man. He tells Mike that he "feels funny," and Mike replies that "Someone manufactured you for a purpose but I think now that's been fulfilled." Looking befuddled at the thought that he is a mere golem whose game is up, Dougie nervously observes that his left hand is shrinking and soon the Owl Cave Ring slides to the floor. Without warning, Dougie's head implodes into a menacing black vapor and a gold pearl materializes from out of the vapor. In a flicker, an entity that appears similar to the Arm's disfigured head snaps into the frame and ingests the gold pearl, only then to disgorge it onto the seat before disappearing. Mike picks up the ring from the floor and the gold pearl from the middle of the seat, puts the ring on the black marble table with the gold pedestal, and pockets the pearl. (23:00-26:15)

In the pressboard palace back in Rancho Rosa, a pile of creamed corn vomit soaks into the beige carpet. A black vapor emanates from a nearby electrical socket and Special Agent Dale Cooper materializes out of the vapor, his head settling only inches from Dougie's garmonbozia pile. Just out of the shower, Dougie's companion (who heard all the ruckus but did not witness Dougie's untimely departure or Cooper's unexpected arrival) is surprised to discover a man she believes to be Dougie now in a sleek black suit and a decidedly more dapper hairstyle. At her behest, they leave the house, though Cooper seems confused about what has transpired, vacant to the point that he is unable even to put on his shoes without assistance. As the escort helps him to pull himself together, they discover a key to room 315 at the Great Northern Hotel in his jacket pocket. (26:16-29:44)


​Realizing that he is incapable of functioning by himself at the moment, Dougie's escort--identifying herself as "Jade" ("You mean Jade has to give you two rides?!")--takes Cooper to the Silver Mustang Casino, where he can "make a phone call to AAA to get help". En route from Rancho Rosa, two hired guns are lying in wait conspiring via walkie talkie to find an opportunity to assassinate the man they believe to be Dougie. One of them has a rifle and pledges to take the kill shot as Jade's Wrangler leaves the complex. But just before Jade and Cooper cross paths with the shooter, they hit a speed bump, causing Cooper to drop the Great Northern key and thus to bend down in his seat to rummage for and finally retrieve it, resulting in the would-be shooter's coming to believe there's no second person in the car with Jade. The shooter radios his partner, identified as "Gene", who infers that Dougie is still inside the house and pledges to put a tracker on his car (license plate "Duge LV") and meet the shooter "back at Mikey's". (29:45-32:09)

A small child across the street observes Gene putting the tracker on Dougie's abandoned car, as his Mom--a strung-out oxy junkie--intermittently yells "119" while popping pills with a three-finger Evan Williams chaser. She lights a cigarette with a butane torch and goes slack, looking as desolate and defeated as the forsaken red balloon on the floor behind her. Perhaps her son has been to a birthday party recently. One never knows. (32:10-34:01)


​South Dakota Highway Patrol is approaching Mr. C.'s wrecked Lincoln, with the vomit-ridden Mr. C. still passed out inside. Patrolman "Billy" approaches and is overcome by the stench of garmonbozia vomit. His partner calls for hazmat backup and helps Billy to safety. (34:02-34:57)

Birds are chirping at sunrise over the Twin Peaks Sheriff's Department. Andy and Lucy have assembled the evidence related to the Laura Palmer case and Cooper's investigation of it, and Hawk has brought the coffee and donuts as promised. The "Donut Disturb" sign has been posted on the conference room door. Hawk recounts the Log Lady's clue that they have convened to decode: "Something is missing and I need to find it. The way I will do it has something to do with my heritage." In a fit of panic, Lucy confesses her concern that a chocolate bunny she cribbed from evidence and ate over twenty-five years ago in an attempt to settle a bubble of gas while pregnant is the item that has gone missing. She wonders aloud whether Native Americans use chocolate as a remedy for unsettled stomachs. Could Margaret Lanterman's clue be pointing to the missing chocolate bunny? Hawk considers this absurdity and, after waffling for a moment or two, declares with confidence that "It's not about the bunnies." (34:58-39:42)

A fully gas-masked Dr. Jacoby is outside his trailer in the woods working at a homemade contraption that enables him expediently to spray-paint shovels gold, five shovels at a go. He uses foot pedals to rotate the shovels for thorough paint coverage. After finishing the five shovels on his rig, he hangs them across the way to dry. (39:43-43:02)


​Jade and Cooper (whom Jade believes to be a stroke-impaired Dougie) pull into the Silver Mustang Casino. Jade assures Cooper that someone will help him and gives him $5 and advice to call a doctor for help from the Silver Mustang. Encouraging Cooper to depart the car, she says "You can go out now.", which triggers a memory in Cooper of Laura Palmer saying precisely those words to him just before he departed the Lodge. Jade pushes him out of the car and, after a couple of false starts, he laboriously negotiates the revolving door into the casino. (43:03-44:11)

Upon entering the Casino, Cooper approaches a security guard, holds out Jade's five-dollar bill, and vacantly says "Call for help!". The confused guard tells him that the machines are in the back, but that he'll need to get change first. After getting change from a friendly booth cashier, he heads to the slots, where he observes a bearded man in the midst of winning a jackpot, exclaiming "Hell-O-ooooo!" upon cashing in. Following a flaming apparition of the Black Lodge curtains and floor that presumably only Cooper can see (but that is curiously visible from a third-person perspective on several occasions, indicating that it may be visible to others as well), Cooper goes from machine to machine, cracking one jackpot after another and mechanically exclaiming "Hell-O-ooooo!" each time, making a protege of a grizzled old woman who is initially skeptical of his talent, but soon realizes that she can cash in on his prescience for jackpots of her own. (44:12-51:58)


​In Philadelphia, Agents Gordon Cole, Albert Rosenfield, and Tammy Preston are assembled with other agents discussing a presumably unrelated murder case concerning a congressman. The other agents file out, but at Cole's request, Preston stays to brief Cole and Rosenfield on the glass box murders in New York City. She notes that NYPD knows nothing, none of the guards could be found, and there's no information at all but an ID of the victims, Sam Colby and Tracy Barbarado. She explains the camera set up, shows stills of the white figural blur that showed up in select photos, and reports that the crime scene is completely clean: no fingerprints, no fibers, no nothing. Just then, Cole receives a phone call that Special Agent Dale Cooper is holding on the line, and Albert, Tammy, and Cole rush to Cole's office to take the call. Cole arranges an interview with Cooper at 9:00 am in the Black Hills of South Dakota, and bids Tammy and Albert to join him. Ever reluctant to suffer fools in backwater bergs, Albert quips: "Perfect. I've been dying to see Mt. Rushmore." As Cole departs, Rosefield says to Preston, "The absurd mystery of the strange forces of existence. How about a truckload full of valium?", prompting a raised eyebrow and a stern twitch of the mouth from Tammy. (51:59-56:13)
Powered by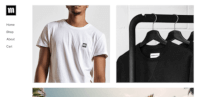 Create your own unique website with customizable templates.