PARTS ONE THROUGH EIGHTEEN (2017)
Hover over the featured photo and click PLAY to browse episodes. Click the featured photo to peruse that episode below the header.
Opening Credits

(0:54-2:13)

Sin City lights twinkle in the Nevada night

as Johnny Jewel's desperately aloof "Flame" sets a solitary mood. At Rancho Rosa, Gene and Jake, Dougie's would-be assassins, are still waiting outside the house where Dougie's abandoned car sits empty. Gene is on the phone explaining their predicament to Lorraine, a neurotic, raven-haired, ren-faire jewelry-bedecked woman sitting at a desk in a dingy office. She's noticeably terrified and panicking that Dougie is still alive: "Fuck Gene! This job was supposed to be done yesterday. Are you trying to get me killed?" Gene asks for instructions, but she f-bombs him again and slams down the phone. "She's a worrier," Jake offers. (2:14-3:00)

Obviously in fear for her life and unsure of what to do next,

Lorraine hesitantly takes out a blackberry and nervously types something, looking as though she'd much rather be sliding down a razor and landing in a manure lagoon than engaging whatever horrors lie at the other end of her electronic communication. We see a single decrepit lightbulb jutting outward from a makeshift electrical box that dangles from exposed conduit. A windowsill is visible just beneath the filth-ridden fixture, which hangs thick with the remnants of a spider web full of hollow exoskeletons and other detritus. Presumably inside the building (which we later learn is located in Buenos Aires, Argentina), a small black box with two red pinprick lights sits centered on an earthen plate atop what appears to be an ancient copper trunk; we hear the phone ring followed by an electronic beep. Lorraine types the number "2" into the Blackberry, above which we see the abbreviation "ARGENT" (Argentina) followed by the number "159" at the far-right margin. Both pinprick lights on the black box flash twice, accompanied by beeping. (3:01-4:02)

​

The beheaded, gutted torso of a man we assume to have been Major Briggs sits on the autopsy table in the Buckhorn morgue. Constance Talbot informs Detectives Macklay and Harrison of the cause of death, quipping that "It took me awhile, but I think someone cut this man's head off. But here's the headline…I already gave you the headline." When the detectives appear nonplussed, she doubles down that "she's still doing standup on the weekend," and proceeds to show them an inscribed ring that was found in the body's otherwise empty stomach: "To Dougie, With Love, Janey-E." The detectives exchange befuddled glances. (4:03-5:04)

Mr. C. lies in his cell staring at the ceiling. He says "And now, food is coming" and on cue, a guard brings a square and pushes it through the tray gate in the cell door. Mr. C. turns to wash his hands and has a vision of he and Bob laughing maniacally in the lodge, followed by Cooper's doppelganger bashing his head into the mirror in room 315 of the Great Northern and seeing Bob there. We return to the cell, where Mr. C. gazes into the mirror to witness his face morph almost imperceptibly into the visage of Bob. "You're still with me, Mr. C. observes. "That's good." (5:05-7:22)

In a bland suburban office building in Twin Peaks, Mike Nelson sits behind a computer at an unkempt desk, his cheap suit hanging on him like a cheap suit. He requests that his assistant send "Steven" in, and Steven Burnett—the drug-addled boyfriend of Shelly's daughter Becky—slumps into the room, clearly expecting good news about a hoped-for job. Still an Olympic-sized douchebasket even after all these years, Mike gratuitously dashes Steven's hopes in a stream of unremitting verbal abuse about the inadequacy of his resume and work ethic, finally inviting him to "Get his ass out of here." As the door closes behind a crestfallen Steven, Mike scanlessly observes, utterly without irony, "What an asshole!" (7:23-8:43)

At the Twin Peaks Sheriff's Department, Frank Truman is sitting in Hawk's office talking to his brother Harry about his illness. Over the intercom, Lucy interrupts to inform Frank that his wife Doris is coming back to talk with him. She rages onto the scene, complaining about everything from "Dwight's" diarrhea, to an imminent visit from the twins, to a leaky pipe that she suspects is destined to lead to a black mold infestation. Frank assures her that the busy plumber has promised to have the pipes fixed by tomorrow, but she rants on—unsatisfied—now about the cost of a bigger bucket to catch the drip, and then onto "Dad's car," which she deems a "deathtrap" notwithstanding Frank's protest that "Sammy" declared it sound. "You are impossible!", she yells at the seemingly impassable Frank as she departs. (8:44-11:21)

Janey-E hustles Sonny Jim out to the car for school. As she fixes Cooper's tie, she informs him that she stashed the $425,000 in their "secret place," and bids him to call the people to whom he owes money and give them their $50,000, after which "we'll be free and clear!" As she talks, Cooper gazes off toward Sonny Jim, waiting seemingly dejectedly in the car, and tears up in an uncharacteristically emotional moment, given his fugue state. "You're acting weird as shit," Janey-E exclaims, finishing his tie. "Don't forget to call them, and no more drinking and gambling," she admonishes him. "Now get to work." As he vacantly repeats "Work!," she realizes that his car is still missing and scolds him into the car for an unscheduled ride to work. (11:22-12:48)

At Rancho Rosa, hapless assassins Gene and Jake fruitlessly roll past Dougie's abandoned car yet again in their orange Toxic-Masculinity-Mobile SS. As they disappear around the corner, the camera tracks back up the street to reveal a second muscle car, jet black and tricked out with stoopid aftermarket rims and tires. Five young men size-up Dougie's car and then drive away. (12:49-14:33)

Janey-E, Sonny Jim, and Cooper pull up in front of Dougie's workplace, Lucky 7 Insurance. After several unsuccessful attempts to get Cooper to leave the car, she inquires whether he is "having another one of his episodes." She opens the door and pushes him out. He shuffles away from the car, leaving the door wide open. (14:34-15:34)


On the way into the office, Cooper stops to gape at a statue of an old west lawman pointing a six-shooter at nothing in particular in the general direction of the building; red balloons that seem to be sculptural elements of another nearby building hover in the distance under the lawman, as Cooper raises his arm to mimic the lawman's stance. He enters the office building and stands awkwardly in the lobby. After an excruciatingly long take of Cooper turning aimlessly in place, a breathless intern from Lucky 7 breezes onto the scene cradling two full drink caddies to his chest: "Off in dreamland again Dougie? Well get the lead out, pal, because team meeting starts in three minutes!" Nose to the coffee, Cooper briskly follows the intern toward a bay of elevators. (15:35-17:20)

They board the elevator and the intern hits "7 UP!". Cooper begs for coffee and through persistence persuades the intern to give him "Frank's coffee. He never drinks it anyway." As Cooper awkwardly but wholeheartedly imbibes, the intern notices his enthusiasm and excitedly laughs, "Hahaha! That's DAMN good joe, aye Dougie?". "Damn good Joe!," Cooper vacantly repeats as a women looks on incredulously. The elevator opens and the intern laboriously shepherds Cooper through the lobby of Lucky 7 Insurance into a conference room. (17:21-19:12)

As people filter into the meeting, Anthony Sinclair—a pugnacious alphacock later described as Lucky 7's "top agent"—grabs the man he believes to be Dougie from behind, applies a playful headlock, and says "Look who's back from bendersville—and with a new haircut—I covered for your ass, so you owe me bigtime!" Getting zero back from zombie Coop, he gives up. At the conference table, some creep called Darren comes onto a female colleague who brazenly reminds him that he's married, as poor Frank realizes with frustration that "Dougie" has commandeered his coffee. The intern proffers an extra green tea latte in its stead and Frank seems pacified, smiling oddly as he sips the tea. (19:12-21:35)

The head suit, Bushnell Mullins, calls the meeting to order and becomes agitated as "Dougie" fails to comply until the intern rustles him into place. Once everyone is seated, Tony Sinclair leads, informing the group that the Beeker case and the Littlefield case have been proven and must be paid out. When Mullins protests that forensics made Littlefield for arson, Sinclair rebuffs him, saying that it all checked out and that the claims must be honored. As Sinclair waits for Mullins' reply, a pale green light emanating from Cooper's direction subtly flickers across his face, compelling Cooper loudly to interject: "He's lying!". All at the table are shocked, and Sinclair is clearly threatened. Mullins demands to see "Dougie" in his office immediately following the meeting, where he reads him the riot act for publicly slandering Lucky 7's "best agent." The word "agent" clearly resonates with Cooper, who repeats it multiple times. Mullins puts a stack of case files in Cooper's hands and tells him that his future at the company depends on getting them done overnight. (21:36-25:00)

Dismissed from the meeting, Cooper stands doubled-over in the hall struggling to avoid soiling himself. Assuming the men's room is locked, the woman who denied creepy-married-Darren just minutes ago volunteers to sneak Cooper into the women's room to relieve himself, inexplicably volunteering to make out with him while they're in there. Despite being an alcoholic gambling addict whose occasional catatonics barely raise an eyebrow from his co-dependent family, friends, and colleagues, "Dougie" apparently still has a way with the ladies somehow. (25:00-25:59)

At the Silver Mustang, the pit boss who presided over Cooper's jackpot spree has just been informed that his mafia overlords are coming for him. Oddly, the wise-guys bringing the hurt are accompanied by three cabaret dancers who look on indifferently as their companions dole out a merciless beating to the pit boss in retribution for the $425,000 that Cooper won on his watch. After throttling him bloody, firing him, and telling him to leave town or die, they give his job to the next guy in line, strenuously requesting to be informed if Cooper ever sets foot in the Silver Mustang again. (26:00-28:47)

At Rancho Rosa, the bomb under Dougie's car blinks away as the little boy from across the street gazes out the window, snacking on Saltines. His drugged-out mother lies slumped in a chair, passed out behind a card table. The boy heads across the street to Dougie's car and reaches underneath to grab the black device. Before he can do so, the black muscle-car reappears and five men leap out, chasing him from the car. Three of the men jimmy the door and attempt to start the car, causing a violent explosion that presumably kills all three. As the bodies burn, the remaining two men flee, and the boy runs home. His mother stirs from her stupor as he gazes out the window at the flaming wreckage which reflects a roaring fire over his face in the glass. (28:48-31:25)


Jade is at the car wash ready to reclaim her sparkling Wrangler when Chris, the man towel-drying it, asks her if she has a John in Washington State. He reaches into his pocket and produces the Great Northern key, room 315 (postage guaranteed if found!). Jade eyes it and sighs "Oh, Dougie!" before walking over to a nearby mailbox and dropping it in. (31:26-32:20)

Inside the R&R Diner, Norma is doing paperwork as Shelly attends to the counter. Becky, Shelly's troubled young-adult daughter, enters dressed in an apron with a bread delivery in tow. Becky and Norma exchange genuine smiles. Norma instructs Toad to receive the delivery and he greets Becky warmly and takes the basket. Becky lingers at the front counter talking to her mother and the mood changes—she needs money. Norma looks on with a sad combination of concern and resignment as Shelly empties her apron and then her purse to assemble a meager $72. Allowing her mother intimately to sweep the hair from her face before she leaves, Becky pledges her love to Shelly and exits to join Steven in a white Trans-Am t-top with a cherry red interior and a phoenix on the hood to match. As she hops into the car, Steven wipes coke-drip from his nose. Shelly heaves a deep sigh as Norma approaches the counter, reminding her that this is the third time Becky's asked for money in two weeks: "If you don't help her now, it's going to get a lot harder to help her later." "We both know that tune, don't we?" Shelly dejectedly replies. (32:21-34:33)

Becky and Steven count their money, as Steven assures a skeptical Becky that "I'm good for it" and "will pay her back." Noticing Shelly and Norma watching disapprovingly from the Diner, Steven relocates the car to escape their gaze. He backs the car up to the railroad tracks in a vacant lot, they kiss, and he claims, pathetically, that he's "going to take my girl out to dinner." He pulls out a vial of coke for a little confidence-booster, and Becky is incredulous that he has exhausted the whole vial in one day. "You know how nervous I get for interviews," Steven protests, offering her a hit from the top of his hand which she reluctantly accepts. "Besides, I got some great fucking feedback today," he lies, transforming his humiliation at the hands of Mike Nelson into a triumph he'll tell her about at dinner. "And on the way," he giddily boasts, "I'll tell you I love you, how beautiful you are, how sexy you are…" He moves on to admiring her physique ("majestic tits" and the like—this guy is all charm) and closes with a pun that seems funnier by dint of the now-burgeoning coke high: "I'll get you some bread…I heard you've been kneading it all day!". They drive off as "I Love How You Love Me" fills the car and the camera adulates Becky's bedazzled, soaring, smiling face for what seems like days. (34:34-38:29)


Back in Vegas, "Dougie" haplessly impedes a flustered gaggle of Lucky 7 colleagues

rushing to exit an elevator at the close of business. He ends up outside, standing under the lawman statue, fixated for some odd reason on the lawman's pants. A transition indicates the passage of time as Cooper continues to stand, transfixed, at the feet of the lawman. (38:30-40:01)

Andy and Hawk are perusing case files in the Twin Peaks Sheriff's Department conference room.

As they search, apparently fruitlessly, Andy asks "Hawk, have you found any Indians?" "No Andy!", Hawk replies with consternation. (40:02-41:19)

"It's seven o'clock! Do you know where your freedom is?"

Coming to us "live and electrified from Studio-A high atop the escarpments of White Tail Peak—the roof (ruff! ruff!) of the American Hindu Kush," Dr. Jacoby—now in character as the ramped-up, vlog-casting "Dr. Amp"—fires up a Souza march and proceeds to rant against…well, pretty much everything. "The fucks are at it again!", he cries, targeting "the same vast global corporate conspiracy, different day; you can't see it without a cosmic flashlight," which of course Dr. Amp promptly produces, illuminating his face from below. As Dr. Amp ranges through the various poisons to which daily life in late capitalism routinely subjects us, we are treated to a glimpse of his viewership—Jerry Horne sparks up a joint, tuning in from a tablet in the forest somewhere, as Nadine Hurley watches, rapt and smiling, from her home office. Having whipped himself into a fury, Dr. Amp attempts to calm himself with a sip of "huckleberry extract and clean boiled water from the artisan springs of White Tail Peak" ("fuck that acai berry shit from the amazon!"). The rant finally wraps in a plea to his viewers: "You must see, hear, understand, and act…act now!" The recommended action in question, we immediately learn, is to purchase one of the good Doc's gold shit-digging shovels for just $29.95 ("Dig your way out of the shit and accept no substitutes!"). (41:20-45:55)

[NOTE: Be sure to check out my take on

the hermeneutic significance of Dr. Amp's role in Twin Peaks

so far!]

At the Pentagon in Arlington, Virginia, Lieutenant Cynthia Cox enters Colonel Davis's office

to inform him of yet another database hit on a fingerprint match for the missing Major Garland Briggs—the sixteenth such hit over the past 25 years. The hit came from the police in Buckhorn, South Dakota, Cindy explains. Though Colonel Davis strongly suspects that this is another "wild goose chase," he observes that "if it's real…and it won't be…but if it is, we'll need to contact the FBI." Cindy drops a cynical jibe about South Dakota this time of year (seemingly obligatory of government employees traveling to the Badland State, like Albert Rosenfield before her), and salutes the Colonel goodbye, tossing a sarcastic nod at his suggestion that she book a first class ticket. (45:56-47:12)

Trouble is performing "Snake Eyes" at the Roadhouse.

A cruel-faced young man, Richard Horne, sits alone in a booth for four dragging on a cigarette, flagrantly ignoring a no smoking sign posted just above him. He gapes lasciviously at four young women in an adjacent booth, ashing his cigarette directly onto the table with contempt. When a Roadhouse employee approaches and asks him to stop smoking, he becomes belligerent and replies "Make me!," as the young women look on with increasing interest. Ever the insufferably meddlesome jackass, Deputy Chad (in plain clothes) intervenes, pledging to handle the situation. He asks Richard for a smoke, and Richard goes one better and gives him the entire pack. As Richard continues smoking with impunity, Deputy Chad leaves the table, looking into the pack to see a fat roll of Ben Frankies inside. He winks at Horne and leaves, removing all doubt that he is the cause of the Twin Peaks' Sheriff's Department's lack of traction on the trafficking of the "Chinese designer drug" coming in from Canada that Sheriff (Frank) Truman and Deputy Briggs discussed in

Part Four

(and by extension, the cause of TPHS student's Denny Craig's death by overdose). As the band plays, a pretty woman called Charlotte from the next table over asks Richard for a light. He invites her to sit next to him, and as she attempts to sit down, he violently pulls her toward him, groping her breasts. "What's your name?," he demands, his voice a toxic cocktail of menace, rage, and contempt. "Charlotte," she reluctantly offers, petrified. The sexual assault continues unabated: "You want to fuck me, Charlotte?" She struggles and her friends protest as he tightens his hand around her throat and his rapey, misogynistic bullshit becomes too deplorable to repeat. A strobe light flashes as Trouble's set continues. (47:13-51:27)

Special Agent Tammy Preston lingers over a photo of the young Dale Cooper. She lines it up aside a mugshot of the incarcerated Mr. C., opening a fingerprint database on an apparent hunch. She notices something significant, presumably, and enlarges one of the key prints to inspect it more closely, glancing down at the hard copy of the prints and seeming to track some sort of discrepancy in the records. (51:28-53:02)

Mr. C. sits handcuffed at a table, preparing to make his "private" phone call about which Gordon Cole expects a full report from Warden Murphy. A security door beeps and opens, and the warden enters, plugs in a telephone, and places it before Mr. C. who thanks him by name, blankly but still somehow malevolently. The warden enters a monitoring room where a guard and a detective assure him that everything is being recorded. Mr. C. is centered on the monitor, staring menacingly into the camera. He says, "Now that we're all here, I'll make my call. Who should I call? Should I call Mr. Strawberry?" Visibly shaken, Warden Murphy mutters, "What the hell?" Mr. C. continues, "No, I don't think I'll call Mr. Strawberry. I don't think he's taking calls." Warden Murphy puts his hand to his mouth, looking simultaneously incredulous and terrified; the gesture seems involuntary. "I know. I know who to call," says Mr. C. He picks up the phone, deliberately punches several numbers, receives an unfamiliar tone (as if for an international connection) and then dials a lengthy series of numbers, deliberately but with inhuman speed. As he finishes dialing, there is a mechanical clicking sound, like a metal security door engaging a heavy lock, and then electronic pandemonium ensues, as every light, camera, and siren in the prison begins going haywire at once. The warden and officers watch in astonishment as Cooper sits calmly—phone to ear—gazing piercingly into the camera. He finally speaks into the receiver, "The cow jumped over the moon," and then replaces the phone in the cradle, abruptly terminating the chaos. Flabbergasted, Warden Murphy queries "What'd this guy just do?" (53:03-56:00)


An aeriel shot of Buenos Aires, Argentina, shows us the city before an abrupt cut back to the decrepit lightbulb and a pan down to a long look the enigmatic black box on the earthen plate. The two red lights on the box blink twice, and the box suddenly folds in on itself, rapidly collapsing into what appears to be a small pebble of pyrite. (56:01-56:33)

Dusk has fallen, but Cooper is still in the square outside Lucky 7 standing at the base of the lawman statue, fondling his bronze shoes. A kindhearted security guard informs him that there is no loitering in the square, but then passes by, leaving Cooper unmolested and alone in the company of the lawman as the credits roll. (56:33-58:41)

Powered by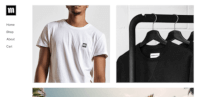 Create your own unique website with customizable templates.